Årets Europæiske FirstClass kunde 1999
af Peter Lars Jensen, 1999
Producenten af
FirstClass
, det canadiske firma SoftArc, kontaktede
BBDO
i foråret 1999 for at tildele mig prisen for " FirstClass European Customer of the Year Award 1999".

Dette fordi vi med vores iver og gå-på-mod, bl.a. som betatestere, havde været med til at gøre FirstClass til et bedre produkt og at vi gennem et
Case Study
udført af IDC, havde anvist muligheder i FirstClass, som SoftArc ikke selv ville kunne have gjort bedre. Vi havde formået at udnytte FirstClass i en grad, som ikke var opnået med produkter som Lotus Notes og Microsoft Exchange, i følge dette uafhængige Case Study - som jo vel at mærke er produkter med væsentligt højere omkostninger.

Den 26. april 1999 var jeg så på en konference hos SoftArc International i Irland, for at afholde et indlæg om vores brug af FirstClass med PowerPoint-præsentation og live web-adgang til BBDO's FirstClass Server. Herefter fik jeg overrakt en "smuk" krystalvase med inskription. Med hæderen fulgte et gavekort for to til en uge i Irland med bil, hoteller, mad og alt betalt.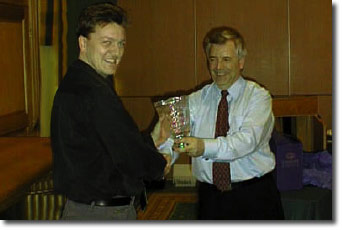 Krystalvasen blev overrakt af SoftArc International's CEO Tom Kernan.


Herunder ses den officielle tilkendegivelse fra SoftArc:

BBDO Denmark wins 1999 FirstClass European Customer of the Year Award
SoftArc International is delighted to announce that BBDO Denmark, a division of BBDO Worldwide, the world's fourth largest advertising agency, has received the 1999 FirstClass European Customer of the Year Award. SoftArc will be honored to have a BBDO Denmark representative attend its Annual Business Partner Conference in Ireland to receive the award.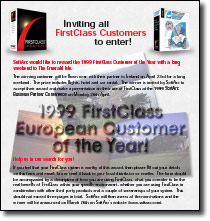 "...SoftArc would like to reward the 1999 FirstClass Customer of the Year with a long weekend to The Emerald Isle. The winning customer will be flown over with their partner to Ireland on April 23rd for a long weekend. The prize includes flights, hotel and car rental. The winner is invited by SoftArc to accept their award and make a presentation on their use of FirstClass at the 1999 SoftArc Business Partner Conference on Monday 26th April".

BBDO is an excellent example of the successful planning and deployment of a corporate Intranet. With staff spread across 285 countries and 72 offices around the world, BBDO is responsible for managing the global advertising needs of PepsiCo., Federal Express, Gillette, Danone, and many other clients. As the agency works on global brands across several divisions, sharing client information and effective communication both within and between offices are critical to its success.

It was for this reason that in June 1996, BBDO Denmark took the decision to implement an Intranet. BBDO needed a system that would be easy to use and administer, in addition to offering cross-platform compatibility, web access and powerful file transfer capabilities. Peter Lars Jensen, IT Manager at BBDO Denmark, was given the task of evaluating various communications solutions including FirstClass Intranet Server, Lotus Notes and Microsoft Exchange. Jensen opted for FirstClass Intranet Server FCIS and has not looked back since. Accessed by employees, providers and clients, FCIS became an immediate success. As Jensen explained, "FCIS helped bring BBDO Denmark closer to its customers. The ability to work offline keeps costs down for mobile users and the cross-platform capability means that users can access work from just about anywhere at any time."

The success of BBDO Denmark led to interest from other BBDO divisions across Scandinavia. Based on the overriding goal of improving inter-Scandinavian co-operation, the FCIS Intranet has enabled shared information by allowing its users to access the appropriate online conferences, otherwise known as discussion forums. "Users simply need to 'pull' information they require from these conferences rather than have it 'pushed' into their mailboxes. This eliminates the problem of private mailboxes becoming overloaded with irrelevant mail," explained Jensen.

As well as improving both creativity and service, the Intranet involves clients in the creative process, allowing them to see the development of campaigns and projects. In Jensen's words, "FirstClass is the common denominator which enables BBDO to connect and collaborate with its clients in an easy and cost effective manner. It has led to improved communication, efficient intra-Scandinavian co-operation, a common information base, increased client involvement and has become a core asset in the world of BBDO Scandinavia.

Congratulations and thanks to BBDO Denmark!



Peter Lars Jensen
Copyright ©1999